Vira Service Field Application
Vira Service Field Application is a mobile app we have developed by combining Google Android and SAP Fiori, which is used by Vestel's Technical Service Staff while providing services such as installation and repair.
Vestel's Technical Service Staff can easily download this application to their mobile phones to keep track of the tasks assigned to them in real time, contact the customer via the FCT Server using the details of the customer, view the technical details and documentation of the product they will service and perform warranty-related procedures. They can also enter the procedures carried out during service, check the spare parts inventory and place orders if necessary. Once the job is completed, they obtain electronic signature via the app, keep service receipts in the electronic medium and if requested, get print-outs via the mobile printer to present to the customer.
Another important feature of the Vira Service Field Application, developed by Vektora CRM Software Development Team, is its ability to function even when there is no internet connection. Thanks to this feature, technical staff in the mountainous and rural areas of the country can continue delivering the same quality of service.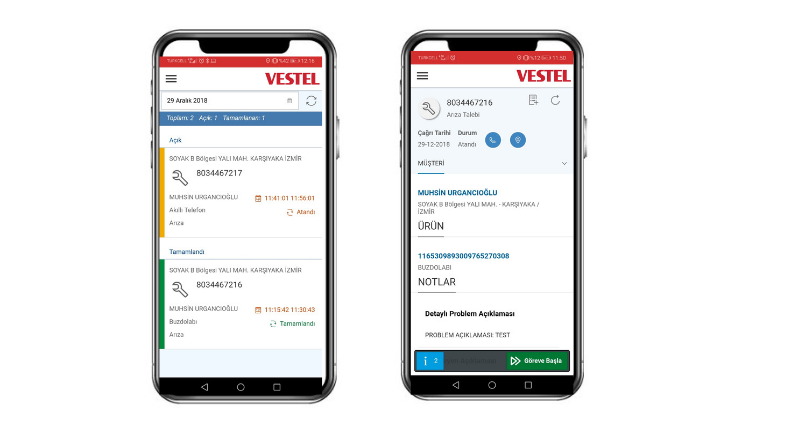 Some of the other innovative aspects of the application include instant monitoring of technical staff on authorized service center screens with regularly transmitted GPS information and confirmation that the service is delivered at the customer's address.
Vira Service Field Application, the global winner at the CONTACT CENTER WORLD awards event where the best projects of the call center industry compete, saves time for the technical staff by reducing the number of clicks (by 35%) needed to perform to complete a job.
With the launch of the project, the satisfaction level of the technical staff increased two-fold. Reportedly, as the job completion rates via the system increased significantly, the rate of errors decreased nearly four-fold.