Advanced Maintenance & Repair Application
This application is designed to enable management and reporting of all maintenance and repair activities with accurate data in an easier and more functional manner on a single screen, running on mobile devices and working in integration with SAP Gui screens. The screen is developed as a functional cockpit screen product, which ensures that the technicians see the list of maintenance and repair notifications on the opened tickets and enables instant automated work order creation upon receipt of intervention request, labor entry with 'job completion' record via mobile device, deduction of consumables used in the repair/maintenance work after job completion and removal of work order from the list with the 'job completion' entry.
In addition to the key features outlined above, automated functions such as checklist applications for periodic (planned) maintenance and mail notifications about when a ticket is opened and forwarded to maintenance and repair units are also available in the system.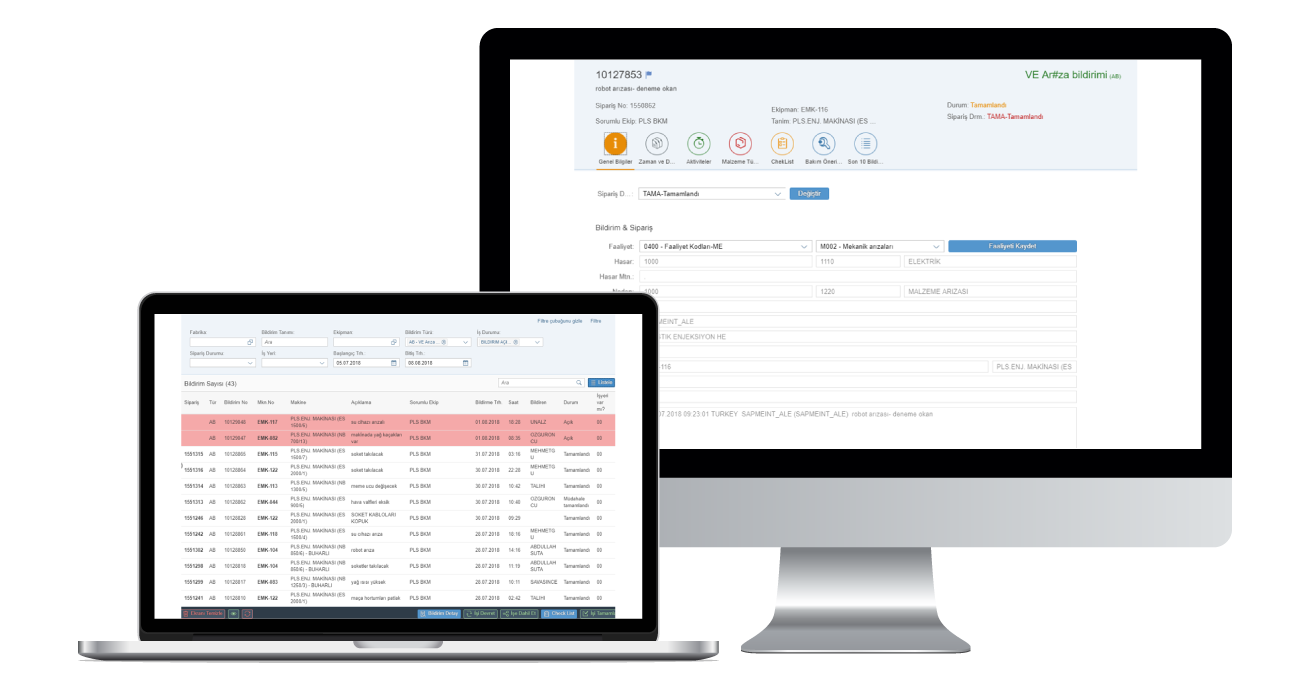 SOLUTION FEATURES
Tickets opened for technicians and notification lists converted to work orders displayed on a single screen

Instant mail notifications of tickets opened to technicians for the machines under their own responsibility

Instant notification of intervention start time when technicians arrive at the machine, scan the machine's barcode and enter registration number via mobile device

Notification of intervention end time when technicians are done with the machine, scan the machine's barcode and register job completion via mobile device, automatic entry of labor into the job with actual duration

Diverting the job to other maintenance and repair technician teams, mail notification after job completion (electrical, mechanical, etc.)

Involving other maintenance and repair technician teams, mail notification after job completion (electrical, mechanical, construction, etc.)

Viewing work order details on mobile device next to the machine (labor, parts consumption, start-end time records of the intervention, solution suggestions for error code, details of the last 10 tickets opened for the machine)

Obtaining actual KPI reports after real-time processing of interventions and analysis of technicians' efficiency with accurate data

Recommendation of maintenance instructions by the system based on error type

Attaching error-related images to the notification, accessing machine-related documentation and videos on mobile devices

Creating checklists for periodic inspections and answering list of questions about the period, creating CPA (corrective and preventive action) notifications in the automation system for non-conforming answers

Tracking which technician is currently working on which machine with employee monitoring report

Scanning machine barcodes using mobile devices to open tickets for the machines by operators

The advanced maintenance and repair module also generates reports such as the 10 most frequently reported error types and machines, the 10 highest costing error types and machines, overall and machine-based spare part frequency report and ready-to-be-scrapped equipment report (according to cost and life, etc. specifications).